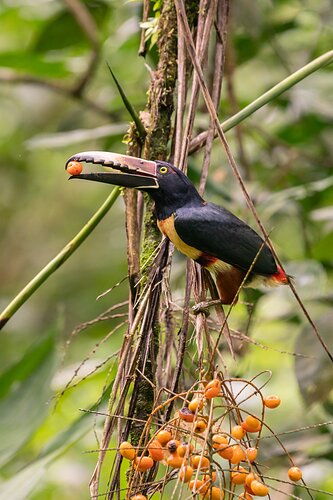 My personal work is mostly landscapes but I was happy to take a trip with my father to Costa Rica and experience the fantastic birds and animals of the rain forest. My father is a very dedicated birder.
What technical feedback would you like if any?
I was using an old DSLR lens mounted on a mirrorless camera. The focus is a bit soft on the aracari's eye with the image of the bird upside down. I like the upside down image but the second image is a bit sharper although more static. Any suggestions?
What artistic feedback would you like if any?
Pertinent technical details or techniques:
(If backgrounds have been removed, etc. please be honest with your techniques to help others learn)
70-400 DSLR lens mounted on mirroless at 400 mm. F6.3, 1/800, iso5000. It was very overcast and dark in the rain forest in Selva Verda biological station Costa Rica.
If you would like your image to be eligible for a feature on the NPN Instagram (
@NaturePhotoNet

), add the tag 'ig' and leave your Instagram username below.

IG bryannelsonca