Specific Feedback Requested
Open to all comments.
Technical Details
1/800sec f/9.0 ISO 800 Water-Housing
always a fan of these kinds of images! I think this is the first I can remember where you can see something on the shore as well (the trees), so it adds even more interest IMO.
My only nit would be the leveling of the horizon on the shoreline. Great work!
This is really good. I agree with @Matt_Payne about leveling the shoreline. This kind of reminds me of David Pu'u's early work in the water.
@Matt_Payne @Harley_Goldman Thanks for the horizon spot. I usually don't bother too much with the horizon in my barrel shots but I think it takes up a significant amount of the image and is so close to being straight that it feels off. Checking out David Pu'u.
An uncommon viewpoint – very nice! I could wish for a faster ss and a more tamed contrast, especially for the highlights, but that's a small nit that may reduce some of the drama. The horizon could be leveled with distortion if you don't want to crop. And I wonder about coming in a little from the right side. The heavier trees on the right pull my eye a bit, as does the wide-angle distortion.
Andre,
Fantastic! Always love seeing these - knowing that I'm not likely to ever attempt - water housing… learning to surf… all those things. But for sure makes me appreciate these efforts and stunning results even more!
Love the contrasts and the "light at the end of the tunnel" efffect here. The "tilt" of the horizon doesn't bother me so much - at least I'm leaning towards the optics of a receeding shoreline giving the impression it's tilted. But regardless if it were rotated, I don't think I would comment that it's not correct!

Love this as presented. Beautifully executed.
Lon
Diane and Lon. Thanks for the comments. I think there are a few reasons why the horizon seems even more distorted. The casuarina trees in the picture are naturally bent from the wind. The beach is curving to the left as it comes to the end of the bay. There is a drop off in sand as it goes to the left. The average viewer will not be privy to any of that though so I think straighten it up helps.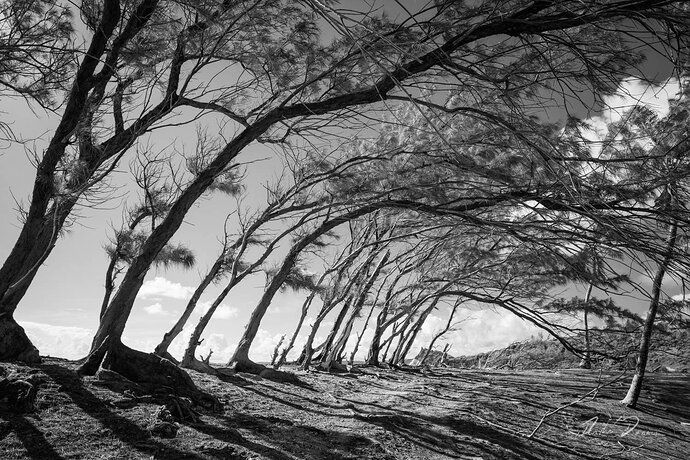 Casuarina Trees