REWORK:

ORIGINAL: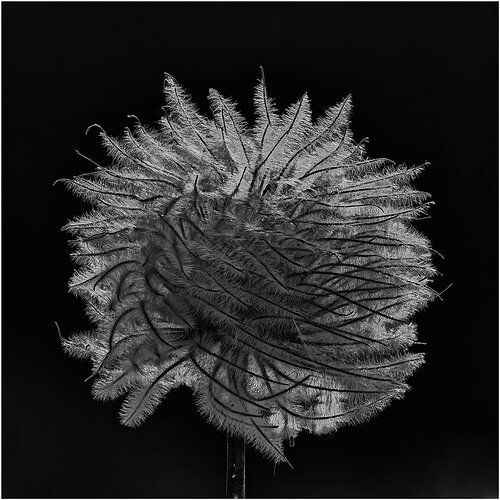 This plant flowered way back in early summer, but yesterday I suddenly noticed how attractive the seed heads were, so I attached this one to a stake for stacking and for selecting the best background. It only occurred to me afterwards that this might suit a B and W treatment.
Specific Feedback Requested
I aimed into the light to emphasize the outer details - this meant I had to reduce some overexposure later. I also brought up the exposure a bit on the dark central portion. Are either of these adjustments too noticeable?
Technical Details
D500 + Helios 44-2 58mm f2 lens 1/1000 f8 (guesstimate) ISO200 Tripod
15 photos stacked in Zerene. Then ACR and PS for tonal adjustments. Into Nik Efex Pro 2 for the B and W conversion. Tinkered a bit with exposure of some areas to extract the maximum detail. Cloned out one or two stacking artifacts.