The sun was dull red when i fed birds an hour or two ago, but when I went back out to photograph it, it had yellowed up quite a bit, though you could still look at it. The software seems to interpret the colors rather differently depending on the exposure. When I had the sun looking right, the background was pretty dark but it came up fairly close to gray when I adjusted levels in PS. When I exposed for the sky and let the sun almost blow out, the sky came out a reddish tan. They make two rather different images, so I'll post them both here.
Darker original: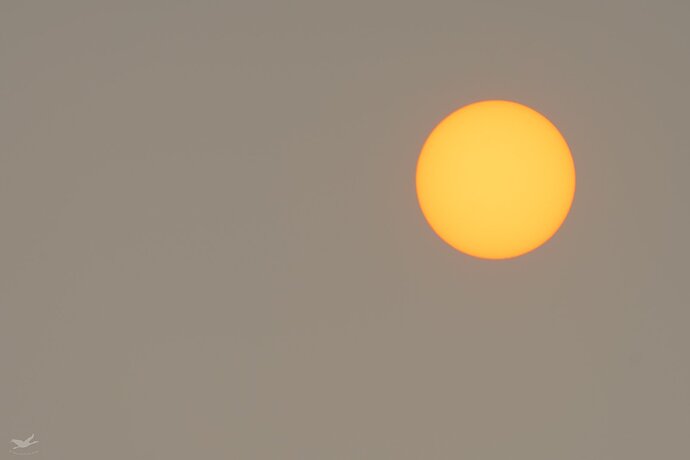 And lighter original:
For this challenge, I deliberately avoided any elements other than sun and sky.
What technical feedback would you like if any?
Anything
What artistic feedback would you like if any?
Anything.
Pertinent technical details or techniques:
Sony A6500, FE200-600 @600 mm, tripod with ball head and Sidekick mount, Shutter speed was the only difference in settings. Both were at f/8 and iso 200. The darker was at 1/4000 and the brighter at 1/640. Processed in LR & PS CC. Adjustments to sun and sky done through Luminosity masks. Taken at ~9.)) this morning.
If you would like your image to be eligible for a feature on the NPN Instagram (
@NaturePhotoNet

), add the tag 'ig' and leave your Instagram username below.