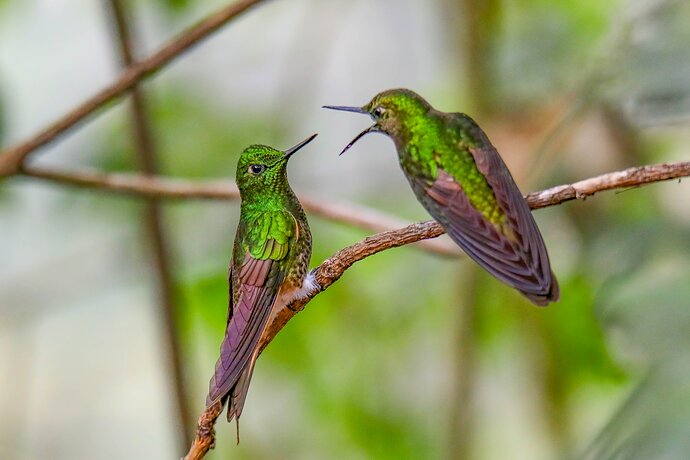 Photographed this pair of hummingbirds in Ecuador in 2019. Most of my other photographs of these beautiful birds were of them approaching or leaving feeders, which got monotonous after a while, so I drifted off to try to find birds who were in the bushes and trees rather than at the feeders.
Type of Critique Requested
Aesthetic: Feedback on the overall visual appeal of the image, including its color, lighting, cropping, and composition.
Conceptual: Feedback on the message and story conveyed by the image.
Emotional: Feedback on the emotional impact and artistic value of the image.
Technical: Feedback on the technical aspects of the image, such as exposure, color, focus and reproduction of colors and details, post-processing, and print quality.
Specific Feedback and Self-Critique
I wished I had used a smaller aperture, as the bird doing the scolding is not in sharp focus. But I still think the interaction makes the picture memorable (to me at least)
Technical Details
Canon 5D Mk IV, tamron 100-400 mm lens. F6.3, 1/500th sec, auto ISO