When the event is live on 2023-07-26T14:00:00Z:
New to our NPN community? Choose from two fantastic options. Either sign up for free to join the AMA discussion or become a full-fledged member for complete access to our community and its multitude of opportunities. We're excited to welcome you!
---
We are delighted to announce the participation of @Cynthia_Bandurek in our upcoming Ask Me Anything (AMA) event in July. Get ready to delve into an engaging conversation with Cynthia on July 26th, starting from 10:00 am Eastern time (1:00 pm UTC/GMT). This exclusive session will span 24 hours, providing ample opportunity for all your queries to be addressed.
For more insights about Cynthia and her notable works, visit her website at: Cynthia Bandurek
---
To ensure you don't miss out on this engaging event, add it to your calendar. Simply find the button with three dots located next to the event title and select the 'add to calendar' option. An email notification will be sent your way as soon as the event commences. Remember, you are welcome to post your question anytime during the 24-hour window.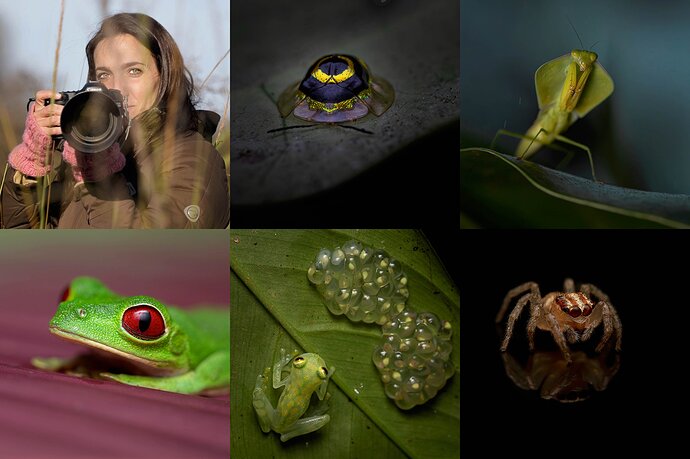 Cynthia's Bio
Cynthia Bandurek is an accomplished Argentinian Ecologist, Field-Naturalist, Nature Photographer, and Wildlife Artist. She was born and raised in Buenos Aires, where her early interest in sports and innate gift for drawing and painting sparked a lifelong passion for nature. Cynthia's expertise is focused on the complex universe of arthropods, which she explores through her research, teaching, photography, and art.
She has actively participated in numerous conservation projects across Argentina, lending her knowledge and skill to the protection of her country's biodiversity. Her work as a guide at Ecoturistico La Tarde in Costa Rica from 2021 to 2022, and her tenure at several scientific institutions in Argentina including the Instituto de Botánica Darwinion and Museo Argentino de Ciencias Naturales, attest to her deep involvement in ecological education and conservation.
Cynthia is the author of "The World of Small, An approach to the universe of arthropods from an artistic, visual, and evolutionary perspective." She brings her vast experience in Macro Photography to teaching roles in Costa Rica and Argentina, where she shares her passion and expertise with a new generation of naturalists. Cynthia is also a skilled designer and has provided editorial design for Flora Argentina, a significant project for the preservation of Argentina's botanical species.
As the Contributing Editor for Paws Trails Explorers Magazine's South and Central American editions and a Nature First Ambassador, Cynthia's influence extends across continents. She is also part of the editorial team of Objetivo Natural, a nature photographers magazine, and has been an integral member since 2016. Her work as a content creator and community manager at Estación Biológica La Cotinga in 2021 further emphasizes her commitment to nature conservation and education.
Throughout her career, Cynthia has given several workshops and been part of significant scientific publications, shedding light on important environmental issues and sharing her knowledge on a wide array of platforms. She has served as a judge in several prominent photography contests, showcasing her discerning eye and deep understanding of nature photography.
Cynthia has an impressive portfolio of published work, including books, magazines, and online publications. Her work has been exhibited internationally, with exhibitions in locations as diverse as Vancouver, Dubai, and her home country of Argentina.
Notably, Cynthia is also an effective communicator, demonstrated through numerous interviews and press bios that highlight her work and contributions to ecology, conservation, and nature photography.
Equipped with technical skills in areas such as web design, illustration, and graphic design, Cynthia uses her diverse expertise to amplify her message of nature conservation. Her unwavering commitment to revealing and preserving the natural world is clear in her multifaceted career, making her a prominent figure in the field of ecology and conservation.