3rd edit (pano):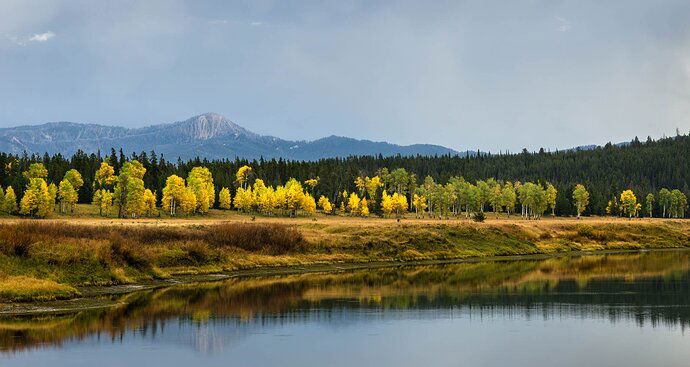 2nd edit:

Original:

Critique Style Requested: Standard

The photographer is looking for generalized feedback about the aesthetic and technical qualities of their image.
Description
I took this picture last September on a trip to Jackson Hole. This view is looking toward the east side of the valley, away from the Tetons. There aren't any dramatic peaks in this scene, but I really liked the bend of the river, the bench with the aspens just turning yellow, the low peak in the background, and the moody sky. I thought my first edit looked a little flat, so I recently decided to take another shot at processing this image.
Specific Feedback
I made a lot of light adjustments in Lightroom and used a few different masks on different parts of the sky to tone down some of the bright areas. I played around with removing the tiny, bright clouds, which I find a little distracting, but ended up deciding to leave them. I used the point color tool to brighten up the aspens on the shore. I like this version a lot more than my initial edit, but would still definitely appreciate any feedback and suggestions for improvement.
Technical Details
17-70 mm lens, shot at 64 mm, ISO 100, f/10, 1/160 sec.