Re-Work
I had to put this one down for a while and kept coming back to it in an effort to make it work. I realize this may be processed a bit too far from the original for some. My intention is not to pass this off as journalistic - it was always intended to be impressionistic. I could not find any way to eliminate the weird green hue in the shadows without destroying the rest of the colors. I tried masking it several different ways in PS as well, but as far as I can tell, the blurred nature of the ICM makes creating a targeted mask difficult. Once I made the shadows more orange that helped. Creating even more darkness in the shadows, to me, was more in line with the "mystery" element that I was going for and conveniently hid the green color quite a bit. It's still there in some places, but I think this is the best I can do! Thanks again to everyone who shared comments and feedback. I will say that I learned a great deal about photoshop and luminosity / color masking in the process so it was a great exercise.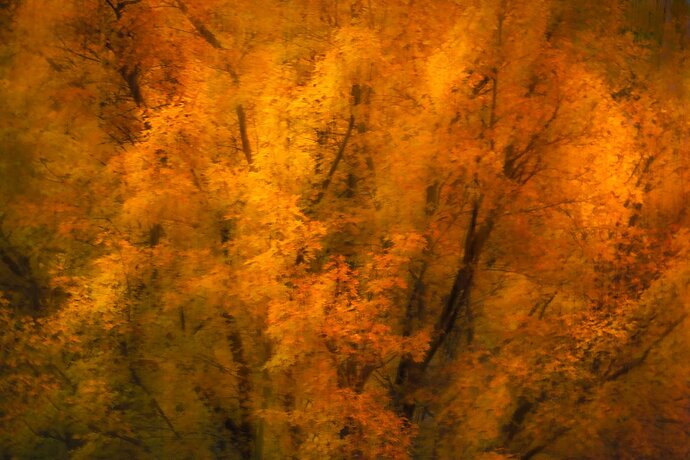 Description:
In the fall, I started to experiment with intentional camera movement. A few of these images taken with medium shutter speeds, came out looking painterly and impressionistic. I've really been enjoying playing with this technique. I think I have enough to put together a small series and these images were made with my one year old son on my back while on "hikes" near our home. My aim is to convey depth and a little bit of mystery associated with the passion and energy of this particular time in my life and in our collective history.
Specific Feedback Requested:
Does the color convey the intent? I couldn't quite figure out how to manage those green leaves that are still on the tree in shadow. They are particularly prominent in the jpg compression.
Does the aspect ratio work? I was very intentional in highlighting the yellow leaves that were lit by the evening sun, and had a hard time figuring out how to crop without losing something so I left it at 2:3.
Anything else - beat me up!
Pertinent technical details or techniques:
Is this a composite? No - single exposure, edited in LR and dodged / cleaned up in PS .
80mm
ISO 80
f/22
0.5 sec
If you would like your image to be eligible for a feature on the NPN Instagram (
@NaturePhotoNet

), add the tag 'ig' and leave your Instagram username below.

@danielwoodmd