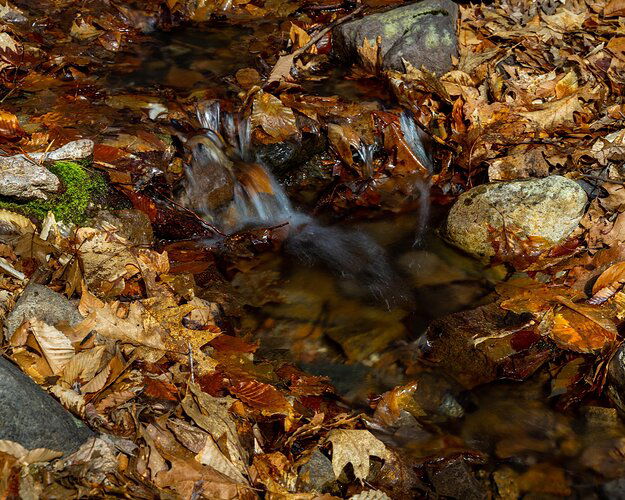 Specific Feedback Requested
Any and all feedback/criticism appreciated
Technical Details
Is this a composite: No
1/2 shutter speed, f11, iso100
Daniel, it's a nice shot showing the great range of colours and tones in the leaves, and you have captured the movement of the water well.
I think that it could benefit from from being a longer shot showing more of the scene. This is quite tight in.
Such rich colors and textures. Little streams can be a lot of fun. I wish you'd gone in tighter or looser with this though. I can't really see a definitive subject and the messiness, while fun, doesn't grab me. The lighting looks odd to me as well. Did you use a flash? Share more scenes of the area if you have them. Looks intriguing.
Daniel, I actually really like the messiness of the scene. It's nature after all. I do think it could benefit from some slight adjustments. I hope you don't mind, I downloaded the image and made the following slight changes:
Cropped a sliver off the left side to make the water less centered.
Dialed back the saturation and nudged the highlights down.
Hit it with a color balance tool.
Added a very slight vignette.
Final curves adjustment to the mid-tones.
Here's the result:

Not saying it's better than yours, just a different eye looking at it.
As Kris said, looking forward to seeing more of your work from this area if you have them.
Cheers,
David
To me, Daniel, this image feels like what one of my photography mentors, David DuChemin, would call a "sketch image". When I come upon a scene that has drawn my attention, I slowly work my way towards discovering what, in fact, is really drawing my attention. I may then take 20, 30 frames or more - zooming in, pulling back, moving my camera up, down, and around - as I try and get to the nut of it. To me, this image feels both too much and too little. I'm just not sure what you want me to look at. Is there some pattern in there you want me to see - some arrangement of shape, line, or colour? Sure, nature is messy but if we look and listen closely enough we discover there is also order in the chaos and, speaking for myself, that is a big part of what I would like to make more evident to the reader of my photographs.
Hi Daniel,
I see that you recently joined NPN - and I hadn't had a chance to welcome you - So Welcome! Glad to have you here.
Not sure I can add much to the comments/suggestions already, so maybe these are repeat.
I love intimate little scenes like this and am always on the lookout for them. And so I can see what caught your eye and drew you to photograph this scene. For me, I'd call this a "'tweener" meaning it's in between a broader more landscape scene and a much more intimate one, say of just the cascade.
I think I would go for a tighter view and/or crop to focus on the little cascade and the immediate surrounding wet leaves to help frame. I think in this bigger view, the larger rocks aren't helping; mostly the one near the right which has a much brighter right side. Perhaps burning that down would help.
I took the liberty to download and modify a little to demonstrate. mostly a crop to tighten up the composition. Additionally, I burned down the rock on the right (including some color painting to reduce the brighter color) Problematic after my crop is the remain bits of green moss on the left edge, which are now out of place. Anyway, just getting back to the part of simplifying or getting closer to what might have drawn you to the scene.
Oh, also burned down the brighter leaves in the UR, upper right and LL, lower left to help keep the eye in the frame.
Of course it's all subjective and might not come close to your vision, so take it for that.
Welcome aboard. Curious to hear your thoughts. thanks for posting.
Welcome to NPN, Dan. I can see what you're after in this image. I like the consistent overall color cast you've constructed this image with. In that respect the green moss stands out and should be changed. The composition also looks busy. There's a bright leaf near the bottom and the leaves on the rocks on the left have highlights in them. That together with the moss breaks up the image. The brighter rock on the right is find because it's a major component. I think Lon's crop addresses it although there are other optional crops as well. I'm also wondering if a polarizer was used. Sometimes a bit of reflection really helps.
Thanks everyone! Ya the lighting was definitely tricky as it was quite bright out. I used a ND filter but no polarizer. A lot of the leaves on the sides seemed to reflect more than others so i tried to lower that, but didn't want to go too far. I love the tight in crops, probably what i should have aimed for, but took that middle road instead. Thanks for the feedback, makes me want to get right back out there!