Critique Style Requested: Standard

The photographer is looking for generalized feedback about the aesthetic and technical qualities of their image.
Description
My brother-in-law lives in Croatia and converted their home into a bed and breakfast. His yard is full of beautiful flowers. This feathery clump of what I think may be pink pampas grass captured my imagination.
Specific Feedback
General feedback on composition and processing would be appreciated.
My goal was to emphasize the grass's soft, feathery nature.
Technical Details
It was taken with a Nikon D3000, ISO 200, f/5.3, 1/60 sec.
I used a watercolor filter to soften the details and then processed it in PS with TK9 filters to balance the colors.

I even outed the greens, as suggested by
@Alfredo_Mora
. Thank you for that observation. I hope I did enough.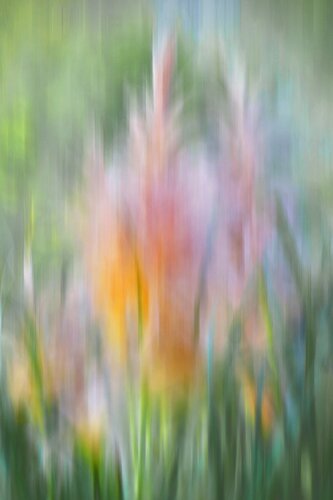 I cropped this to center the colored area as per
@Lon_Overacker
's excellent suggestion. I like it much better. Thanks, Lon.