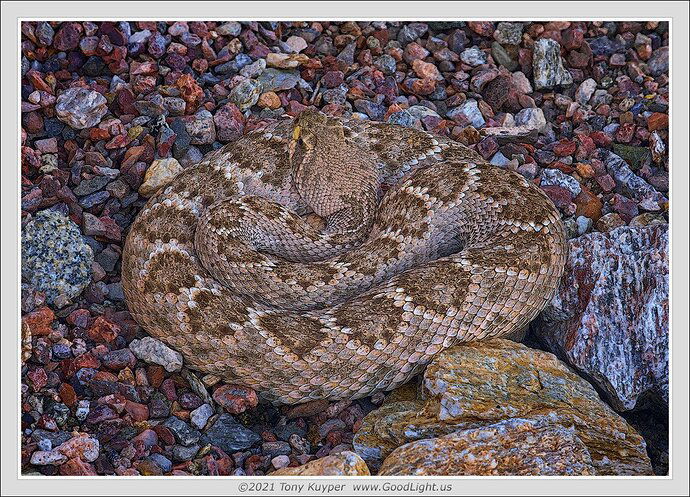 I'm not sure what to make of my "relationship" with this animal. I'm fairly sure its the same snake I regularly see along my driveway when I go for my evening walk. It's rattled menacingly at me in the past, scared the bejesus out of me, fearlessly crosses in front of my house in the middle of the day, and also totally ignores me sometimes. I'm pretty sure it's waiting for dinner to arrive here. It's just after sunset and it's motionless in the decorative gravel at the edge of my driveway looking slightly uphill at the rodent holes where mice probably come out of at night. There's probably an action shot if I'd have the patience to wait for it.
My instinct is to want this creature killed or removed from the property, but I can't bring myself to do either. It's made a home among the rocks and cactuses around my house, and is a natural part of the ecosystem. I don't have kids or pets around, though there have been some close personal encounters in the past that remind me to watch for snakes wherever I step. The zip code where I live has more rattlesnake bites than any other in Arizona. It's definitely a threat, but it also seems to ignore me, like when I took this picture. There's no way it could NOT have known I was close by when I took this picture.
So some mixed feelings at the moment. I think there may come a time when I've had enough, but I'd prefer to coexist if I can.
Specific Feedback Requested
This a bit of a stylized presentation. I tried to draw out the color of the rocks to provide some contrast to the snake. It actually blended in more than the image suggests. Maybe letting it blend in would make it look more natural.
Technical Details
Is this a composite: No