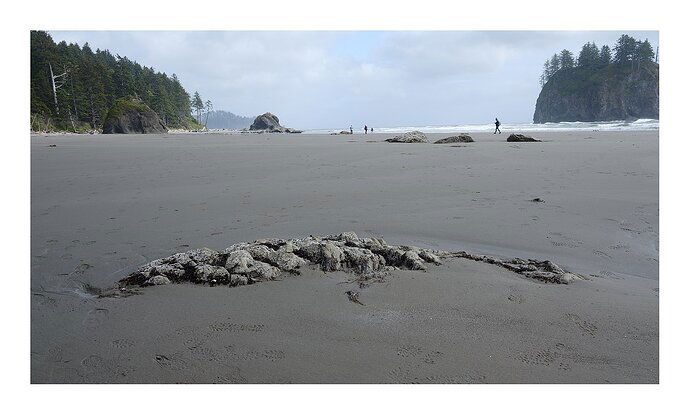 Critique Style Requested: Initial Reaction

Please share your immediate response to the image before reading the photographer's intent (obscured text below) or other comments. The photographer seeks a genuinely unbiased first impression.
Questions to guide your feedback
Is this a peaceful scene or not?
Other Information
Please leave your feedback before viewing the blurred information below, once you have replied, click to reveal the text and see if your assessment aligns with the photographer. Remember, this if for their benefit to learn what your unbiased reaction is.
Image Description
When I took this image he asked me "Don't those people mess your image?". I told him that I would remove them in post processing. But when I looked at the image I decided it looked better with them included. I think it tells a story. Does it for you?
Technical Details
GFX50R, 45-100mm, f/11
Specific Feedback
I am interested mostly in conceptional feedback.
BTW, I am aware that the image is tilted. I will correct that later. That is, I think it's tilted.