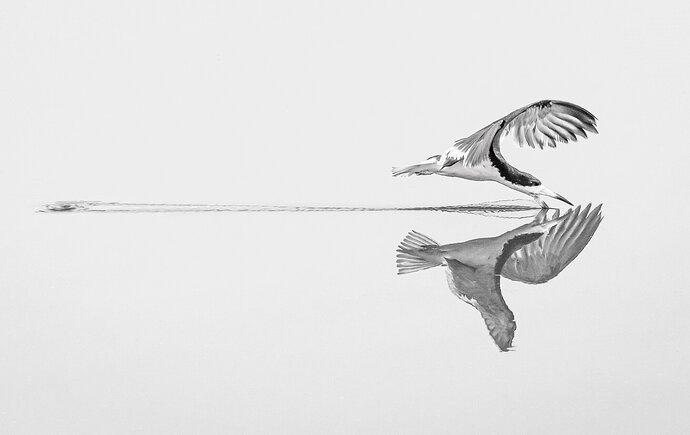 This was taken about three years ago, on what at the time I thought was a boring, overcast day. It is special for me, because it is one of my first bird images that really inspired me, both in what could be done with a DSLR, and also what could be done with post processing.
This image breaks a couple composition rules. First, I didn't leave any space for the Skimmer to fly through the scene. But to include the water trail and also leave room for it to fly through the frame would have taken away some of the impact that this closer-in framing gives. Second, I heard once that our eyes (at least the eyes of Westerners) move from left to right, so the bird should be coming in from the right side of the frame, moving right to left, so that our eyes get "stopped" by the bird's eyes that are looking to the left.
But I love this image anyway!
Specific Feedback Requested
Any.
Some clarity and resolution gets lost when you enlarge this. This might be a candidate for Topaz Gigapixel (?) to add some pixels, so I could print this big?
Technical Details
D500 with 200-500mm lens.
290mm, f/6.3, 1/1000 second, ISO 640
All edits done in Lightroom. A lot of spot removal in the water. I took artistic license and went for a "clean" look in the water, to match the clean sky. Monochrome Red Filter applied, and some additional contrast and dehaze. Some sharpening of the Skimmer too.