I spent four days at Bosque del Apache about two weeks ago. It was my second visit. I talked with several rangers and many photographers who had been coming there for years and this is what I learned. About three years ago the water in front of the flight deck was drained in the summer and the earth was prepared in a way that would allow native grasses to repopulate. Since that time the snow geese have changed their "lift off" behavior. In the "old days" they would reliably spend the night on the water and lift off in the morning before sunrise. Not so anymore. They often sleep somewhere not accessible to the public. They sometimes fly in and land on the flight deck water before sunset, stay about fifteen or twenty minutes, and then lift off. But it is not a reliable event. The days of showing up and always seeing a lift off seem to be over for now. While I was there one morning there were no geese on the water, but the sky filled with them, quite far away, and they flew north. I asked some photographers who were at the Crane pools at that time if the geese landed there and they said no. Another morning a few geese landed several hundred feet north of the flight deck, and did not lift off. They just flew away in small bunches after a few minutes. Another morning quite a few geese flew in and landed on the far side of the water and did lift off. I spoke with several photographers who were at the Crane Pools for sunrise and they said no geese landed during the four days that I was there.
I did get several photos I like, some of cranes taking off, and some of snow geese, but they are all versions of photos you have seen many times before. Here is one that I like that is not an iconic Bosque photo. I would welcome any suggestions, especially regarding saturation and contrast.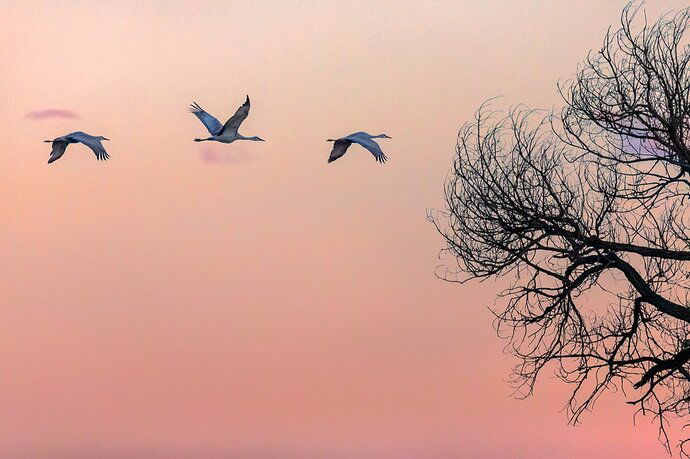 You may only download this image to demonstrate post-processing techniques.