What technical feedback would you like if any?
What artistic feedback would you like if any?
All comments welcome!
Pertinent technical details or techniques:
(If backgrounds have been removed, etc. please be honest with your techniques to help others learn)
This is the only other good pose I was given by the Heron that I posted the other day. He mostly had his head behind the lichen, but in this one I thought it was interesting that he peered out so the eye was in the clear. It looks like he was hoping to hide. I don't know if he was aware of me, as I was over 200 ft away (probably 300) and not out in the clear. Canon 1DX2, 600mm f/4 II + 2X III, ISO 800, f/11, 1/500, large RRS tripod and Wimberley II head, small spot focus point. Cropped to 16% of the original pixels. Shadows and Highlights sliders in LR, then into PS only to darken the head/face and reduce contrast on the branch at the top and burn down highlights on the branch in the LL corner. Topaz DeNoise AI.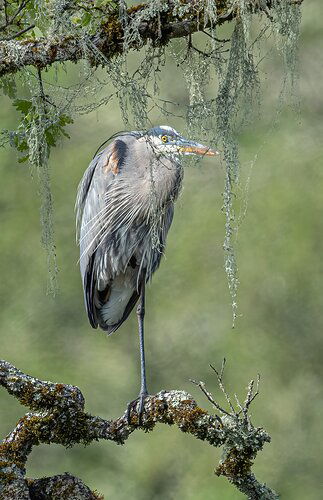 If you would like your image to be eligible for a feature on the NPN Instagram (
@NaturePhotoNet

), add the tag 'ig' and leave your Instagram username below.