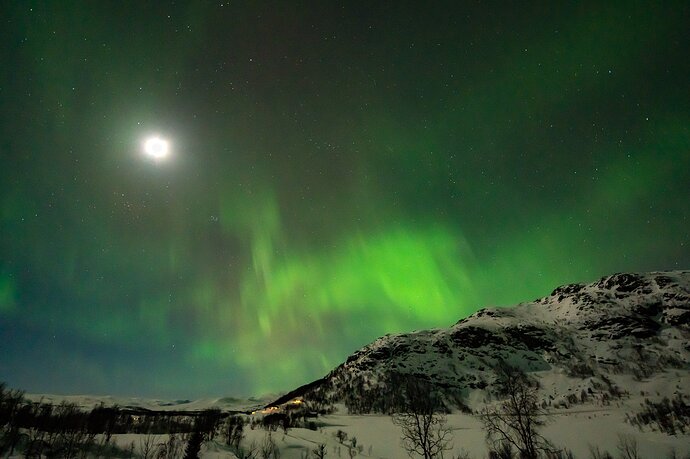 This photo was taken during a very strong solar storm two weeks ago on an extremely cold night (-20c) in Hemsedal, Norway. It was the week of "vinterferie" (winter holiday) for the kiddos, so my son and I joined some friends at their cabin for a week of skiing. The flat snow area in the photo is a cross country ski area in winter, and is actually a frozen lake- currently under about two meters of snow.
The aurora that night filled the whole sky and was extremely active in movement and color. This was taken early in the evening, and it was a fully clear sky but also with about a quarter moon. Much of the ambient light off the snow is moon glow… it was bright enough to see shadows for sure.
Type of Critique Requested
Aesthetic: Feedback on the overall visual appeal of the image, including its color, lighting, cropping, and composition.
Conceptual: Feedback on the message and story conveyed by the image.
Emotional: Feedback on the emotional impact and artistic value of the image.
Technical: Feedback on the technical aspects of the image, such as exposure, color, focus and reproduction of colors and details, post-processing, and print quality.
Specific Feedback and Self-Critique
This was a challenging photo with the moon and contrast and movement of the aurora and everything going on at once. I am considering adding the photo to my collection of prints but want to make it as good as it can be before electing to do so.
Technical Details
Sony a7iii
Sigma 14mm Art Lens
ISO 6400
f / 1.8
1/4 second