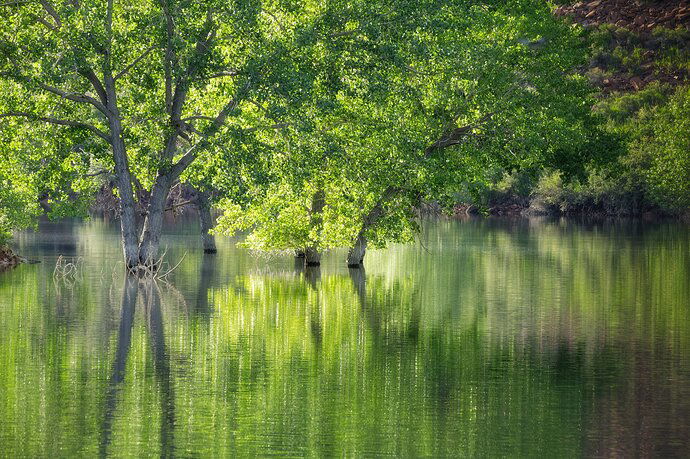 Repost after considering everyone's comments below:

It's not often that we get such brilliant greens around here, but with these trees growing within the high water zone of the reservoir, they get plenty of water. Backlit by the early morning sun, the trees just glowed and engulfed the entire area in green light - not something I am used to photographing (or processing)!
Specific Feedback Requested
Any and all feedback is welcome, though I have some specific questions:
Does the green hue look natural? I did enhance it some, but I'm hoping I didn't go too far. Obviously this is personal preference, but I'm curious how it sits with others.
Do the scraggly branches at the base of the left tree detract from the photo? I've already toned them down quite a bit - the next step would be to remove them through cloning. I'm not opposed to that, but not looking forward to it.
There was quite a bit of cottonwood "cotton" floating in the water. I've already cloned out hundreds of the brightest white dots that I found distracting in the darker areas of the water. Are the remaining white dots distracting at all?
Technical Details
Canon 5Div with Sigma 150-600mm lens (at 283mm). f/11, 1/500, ISO 1600, handheld. DXO PhotoLab to remove noise and correct lens aberrations. Photoshop to dodge/burn, clone distractions and add a slight Orton glow.