Repost per @Robena.Sirett suggestion. I was wondering about that brighter edge but decided to leave it there. Just too wedded to my traditional aspect ratios.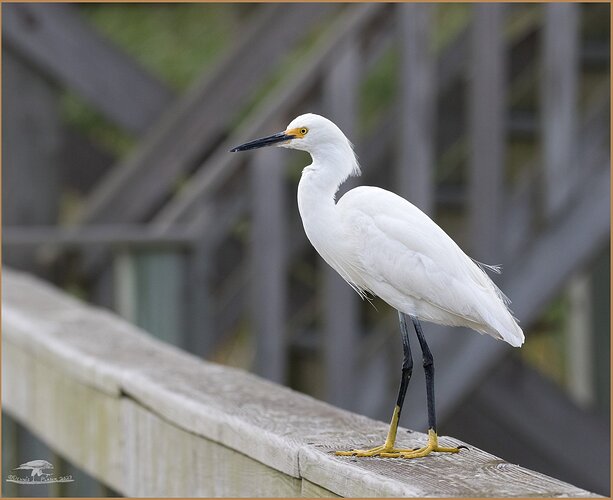 Critique Style Requested: Standard

The photographer is looking for generalized feedback about the aesthetic and technical qualities of their image.
Description
Another culled from six years ago. I ran across this one going through an old folder this morning. This is from a place called Leonabelle Turnbull Birding Center in Port Aransas, Texas. There's a boardwalk going out into a wetland with an observation tower in the middle of it. This egret perched on the rail with the tower in the background. I liked the juxtaposition of the organic shape with all the rigid lines of the structure.
Specific Feedback
I think this works partly because the background structure is so out of focus that it's softened and blends more with the organic lines of the bird while at the same time contrasting with them.
Technical Details
Canon 7DII, Sigma 150-600 Contemporary @ 252 mm, f/7.1, 1/1600, iso 800, manual exposure. Processed in LR & PS CC. Cropped to 4608x3208. Taken on April 12, 2017 @ 9:19 AM.