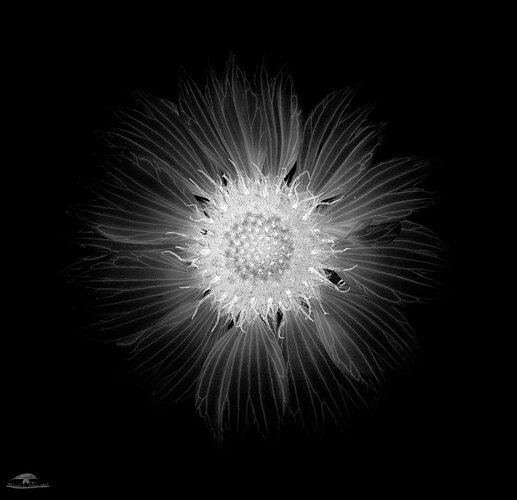 Critique Style Requested: Initial Reaction

Please share your immediate response to the image before reading the photographer's intent (obscured text below) or other comments. The photographer seeks a genuinely unbiased first impression.
Questions to guide your feedback
I was just playing with this one and had some cool results. What does it make you think of at first glance?
Other Information
Please leave your feedback before viewing the blurred information below, once you have replied, click to reveal the text and see if your assessment aligns with the photographer. Remember, this if for their benefit to learn what your unbiased reaction is.
Image Description
This stared out as an experiment in backlit flowers. I used an old tablet as a light table with a piece of paper over it and a blanket flower blossom on top. Surprisingly to me, the backlighting changed the colors a lot, so the first thing I did was try to get those reasonable. Then I wanted to bring the center of the flower up and I thought a good way might be a darks luminosity mask. A darks 3 produced the beginning of this. I saved the mask as a pixel layer, brightened the center even more, then spherized just the center. As a final touch, I accented the bright spots in the center. To me it looks like a sea creature.
Technical Details
Sony A7Riv, FE 70-200 f/4 macro on tripod. See above for more details.
Specific Feedback
Does this grab you aesthetically?