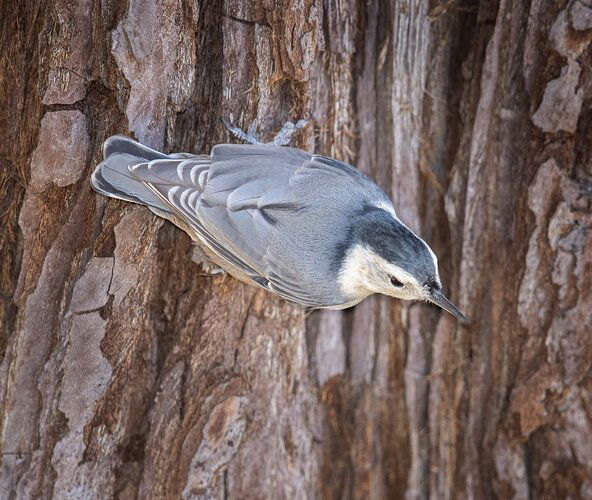 What technical feedback would you like if any?
What artistic feedback would you like if any?
All comments welcome
Pertinent technical details or techniques:
(If backgrounds have been removed, etc. please be honest with your techniques to help others learn)
The light is no good for the feeder location this time of year but there is some action in a nearby redwood tree. It's very challenging as the view is on the shady side and the birds are small and fast-moving. The low light is a challenge for high ISO, wide aperture and slow SS. After some frustration I decided to add some flash, which increased the keepers. The low light and movement also challenges AF on the Canon R5 but I'm getting used to it. I had been shooting with the 400mm f/4 DO II + 2X but the subjects were small enough in the frame that noise had been an issue, as it was about the same frequency as fine feather detail. So I went to the 600mm f/4 + 2X (and a sturdy tripod) and got better results. Of course now SS was more critical, with more magnification. So I added flash and that helped.
Canon R5, 600mm f/4 + 2X, ISO 2500, f/8, 1/125 sec. The flash was at about 1/16 power so it's effective SS was quite fast. The DOF is very shallow, but in this one I got most of the bird in the plane. The details are sharp enough that there may be moiré at some magnifications.
If you would like your image to be eligible for a feature on the NPN Instagram (
@NaturePhotoNet

), add the tag 'ig' and leave your Instagram username below.