This photo was taken around Christmas last year outside of the family cabin. It was a cold morning, right before sunrise, and the entire area was covered in fog. I was really excited to go out and didn't even wait to drink my morning coffee before I went outside. It wasn't easy to find good compositions, but I liked the way the treetops were visible through the fog. Almost like an island.
Original version:

Reworked version: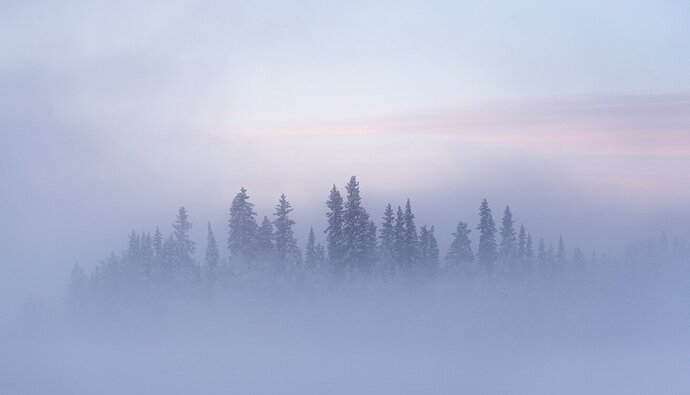 Type of Critique Requested
Aesthetic: Feedback on the overall visual appeal of the image, including its color, lighting, cropping, and composition.
Technical: Feedback on the technical aspects of the image, such as exposure, color, focus and reproduction of colors and details, post-processing, and print quality.
Specific Feedback and Self-Critique
I'm really struggling with this one and I'm unsure if I'm going to keep editing it or move on. I liked it when I was shooting it, but now I'm finding it a bit uninteresting. Even so, it does illustrate a problem I am having:
White balance for a foggy, winter sunrise. This is a difficult one: I think it should be more magenta than blue since it was a sunrise. I don't want it to be too colorful either (foggy day), but I don't want it to be too gray.
Technical Details
100 mm, F4.5, 1/100s, ISO 250. Taken handheld since I didn't bring a tripod.