I don't normally take photos of the birds on my feeders, but thought I'd do this one to show off the fancy camo paint job I did on the feeders this fall. These feeders are ones someone on the local birding listserve was making years ago and my wife picked up several of them. They're made from 4 inch pvc about 2 feet tall with 1" cross tubes. For years these huge white things have hung from out feeding station offending my sense of the rightness of the universe and making horrible backgrounds. Late this summer, after cleaning them up, I got some camo spray paint and tamed the whiteness. It took the birds about 30 seconds to become accustomed to the new colors.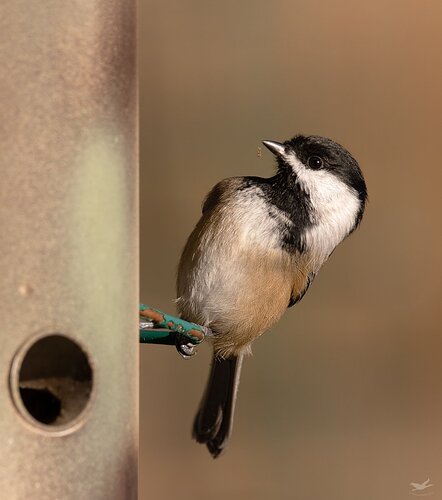 What technical feedback would you like if any?
Anything.
What artistic feedback would you like if any?
Anything.
Any pertinent technical details:
7DII, Sigma 150-600 C @ 451 mm, gimbal head mounted to blind window, f/8, 1/1600, iso 800, manual exposure. Processed in LR & PS CC. Straightened, cropped from the sides and canvas added to the top using the crop tool in PS. Taken at 9:14 am on October 27th under sunny skies.
If you would like your image to be eligible for a feature on the NPN Instagram (
@NaturePhotoNet

), add the tag 'ig' and leave your Instagram username below.
You may only download this image to demonstrate post-processing techniques.