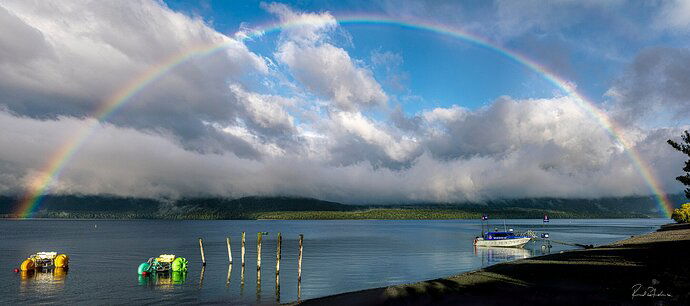 Image Description
I'm posting this rainbow pano not for it's esthetics but as a teaching exercise, to share what I learned in creating it. We are touring Fjordland in NZ and were awaiting the the water taxi (white runabout lower right) to ferry us to a trail across Lake Te Anau. The rainbow appeared.
Had I planned this I'd have used a full frame camera with an ultrawide lens. But the plan was a 6 mile trail walk, so I had only my petite Fuji x100v. This forced me to shoot in portrait orientation and do a hand held pano.
The first lesson was that different portions of the rainbow benefit from different CPL adjustments to maximize rainbow intensity. I learned to adjust the CPL between frames. It's intuitively obvious! The angle of sunlight on the raindrops varies across the wide arc. Had I used an ultrawide on a full frame camera to get all (or most) of the rainbow in one frame, I'd never have made this observation.
Second, rainbows shift rapidly. Doing a pano of a rainbow presents the same challenge as doing a pano of an aurora. This rainbow drifted very slightly as I shot, not enough to be evident in real time but enough to introduce incongruities in the pano merge. If you look carefully you'll see one where the rainbow crosses the clouds,just left of center. I shot several series and I did multiple merges with each. LrC put the incongruity in a different place each time. This merge was my most acceptable.
Type of Critique Requested
Technical: Feedback on the technical aspects of the image, such as exposure, color, focus and reproduction of colors and details, post-processing, and print quality.
Specific Feedback and Self-Critique
Would be better if those crummy plastic water tricycles were not in the scene…
Technical Details
Fuji x100v 23mm f/5.6, ISO 160 (base ISO), 1/500"; 18 handheld frames merged in LrC perspective model, 7 masks in LrC.