RE-POST (16:9 crop)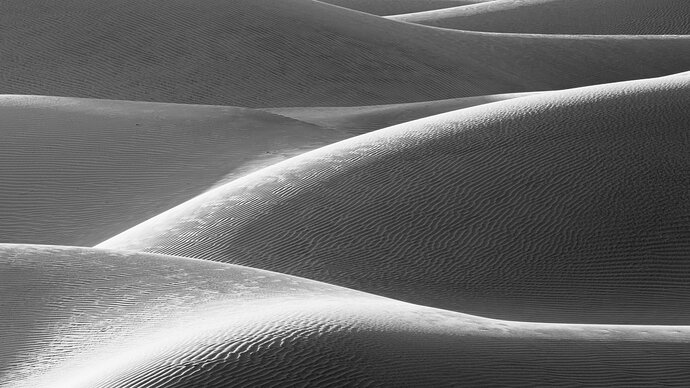 This was taken at my first time to Death Valley, Feb. 2020, at the Mesquite Dunes. I was thrilled to be walking the dunes, in dark, before sunrise. Then, to see where I was and watch the effect of the sun crossing over the dunes. It was beautiful, and I was happy to come away with this image and a couple others to commemorate my time there.
Specific Feedback Requested
Composition? I think this composition is sort of "ordinary", and has been seen many times. I guess I can say how I like the light on the left side of the frame is somewhat balanced by the dark mounds towards the right side of the frame. Open to your thoughts.
Tone. I also decided to go easy on the processing and keep this rather gray, light, and soft (vs. more contrasty). This reflects the calm peacefulness I felt being there that morning.
Technical Details
Is this a composite: No
200mm
1/13 sec
f/14
ISO 100