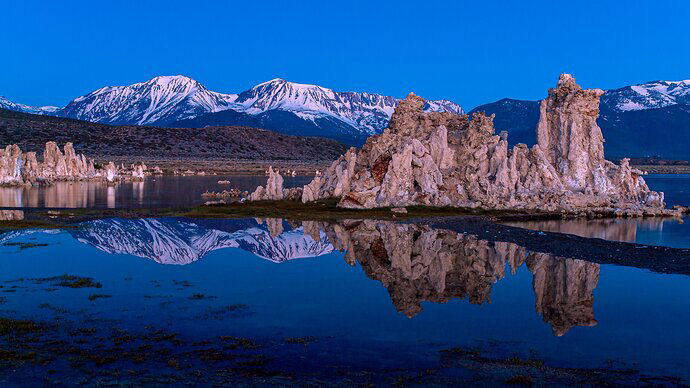 From nearly 10 years ago on Mono Lake. Even though I arrived at full dark, there was a person on the 'best bit' of shoreline so I set up elsewhere. I was so nervous I could barely function. It's one of those landscapes so famous that I put enormous pressure on myself to do it justice. That made me forget the most basic things about landscape photography and overall I'm a little disappointed with my output from here.
This is one of the good ones though. It was before the sun crested, but there was a kiss of pink on the mountain tops. The wind was starting to kick up, so I had to choose my battles - the reflection was the added bonus so I didn't dare go too long with the shutter speed. And I was on the worst tripod on earth and so it wasn't as stable as it could have been. Anyway…those tufa sculptures are amazing and I didn't diminish them too much. One of these days I'll go back and do better.
Specific Feedback Requested
Color balance - how does it look? SOOC it is VERY cyan in overall cast so I adjusted it as best I could to what I remember from a decade ago. Is it too soft? I did what I could to sharpen, but if there's camera movement there isn't much to be done.
Technical Details
Is this a composite: No
Olympus E-30 DSLR
Zuiko D 12-60mm lens @21mm (42mm equiv.)
f/5 | 4 seconds | ISO 200
rickety tripod
Lr processed to bump exposure and adjust white balance. Added clarity and a good deal of contrast with a curves adjustment. Graduated filter in immediate fg to keep focus on the fufa formations. Also emphasized warm tones in highlights & mids with some gentle color grading. Sharpening & nr. Photoshop to remove some bright pebbles in the immediate foreground.
@the.wire.smith