A second RP with more saturation and vibrance:
The first RP with the tufa darker: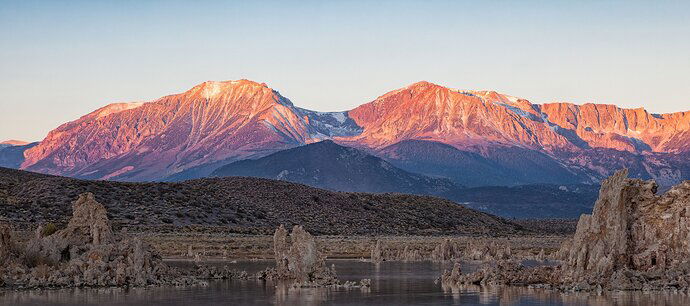 And the original:
This was an hour earlier the same morning (in October of 2010) as the fun post I did for the Fire challenge: Burning bushes
I dug it out to drop in that thread to illustrate why I hadn't been very enthusiastic about the bushes, although I'm very happy that several others found it worthy. The mountains were just in dead light by the time I found the burned bushes, on my way out. And the shoot here was disappointing due to wind spoiling the reflections. There were a lot of very active birds on the lake that I thought would spoil very long exposures, but I really should have tried anyway.
I had never done much with these shots as this really wasn't one of the better sunrises there, due to haze to the east and no snow.
And as soon as I posted this I decided the tufa stood out too much, so put up a version with them darker.
Specific Feedback Requested
All comments welcome!
Technical Details
The old raw file was reworked in the newest LR, but fairly minimal tonal work (mostly Dehaze) with a couple of gradient masks. In PS, NR and sharpening, some cloning of bird wakes. Large crop from the bottom as the broken up reflections on the water competed with the mountains.