version 1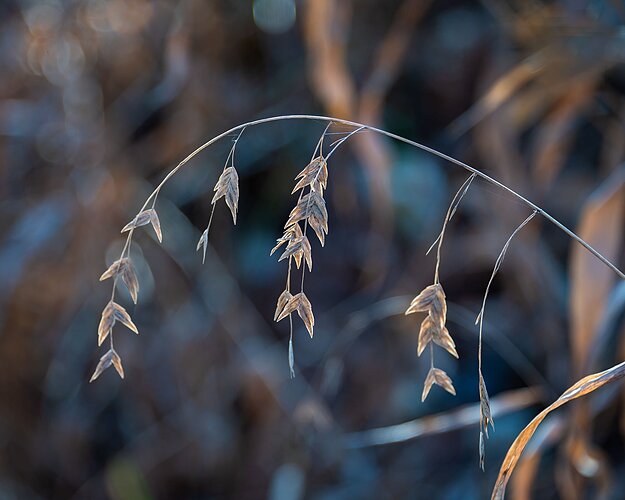 version 2
version 3
While wandering my favorite natural trail a couple of days ago, this wild grass (Chasmanthium - I believe) caught my eyes in the morning sun. I enjoy watching it change throughout the year and decided to try for a fall/winter capture.
Type of Critique Requested
Aesthetic: Feedback on the overall visual appeal of the image, including its color, lighting, cropping, and composition.
Conceptual: Feedback on the message and story conveyed by the image.
Emotional: Feedback on the emotional impact and artistic value of the image.
Technical: Feedback on the technical aspects of the image, such as exposure, color, focus and reproduction of colors and details, post-processing, and print quality.
Specific Feedback and Self-Critique
I enjoy seeing the morning back lighting on anything. It is so pure and refreshing for me. These two image prove to be a wonderful exercise in post process and I am hoping you can give me feedback on them. As a side note, I did consider stacking them to get all of the pods sharp, however the winds were gusting at 10mph, this was way beyond my stacking abilities.
The subject, composition, and lighting for sure. But also about the two versions - they are the same image processed differently. Both were processed in ACR. V1 I used the profile linear Nikon Z6 and for the V2 version I used the Adobe color profile. In both images I used auto adjustment setting (with minor adjustments). Then made basic highlight/hot spot and cloning adjustment. Both were then taken into PS for cropping (5:4), added freehand vignette and soft pop (both with minor opacity adjustments).
Do either of the images speak to you, emotionally or tell a story better, more than the other? Other comments on the post processing are encouraged along with any other thoughts.
Thank you
Technical Details
Nikon Z6ii, f/5.6, 1/100sec., iso 200 @150mm (28mm-300mm), tripod, remote control.