I know the Grand Canyon has been photographed to death, but when you're there, you just have to take pictures

The sky was particularly boring that day, so I excluded it completely and focused solely on the interplay of light & shadow on the inner canyon walls. In post, I wanted to emphasize the two diagonal lines caused by the lit canyon walls, so everything else is quite dark. I post 2 versions, which one do like better and why?

modified b/w version based on suggestions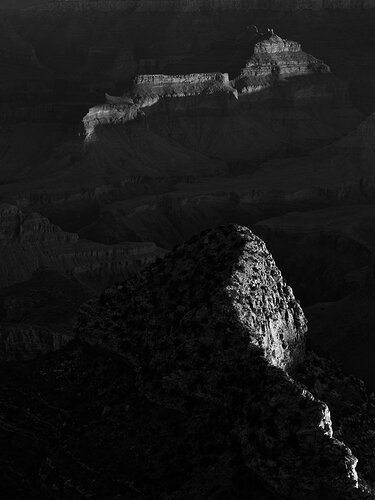 What technical feedback would you like if any?
any
What artistic feedback would you like if any?
any
Pertinent technical details or techniques:
(If this is a composite, etc. please be honest with your techniques to help others learn)
f/16, 80mm, 1/8s (on tripod), ISO 100
If you would like your image to be eligible for a feature on the NPN Instagram (
@NaturePhotoNet

), add the tag 'ig' and leave your Instagram username below.