Rework based on comments

Original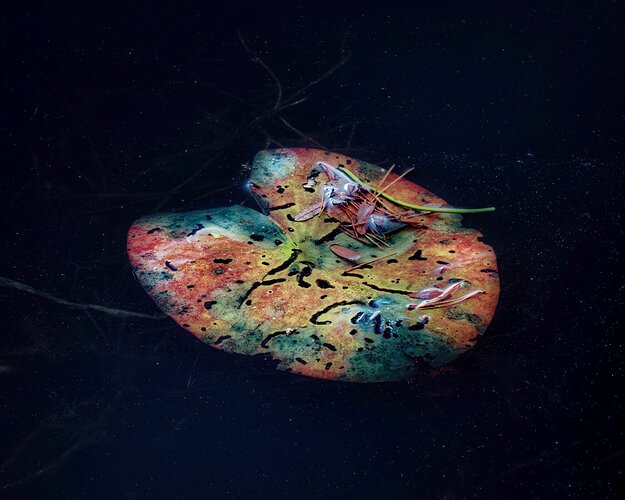 A while ago I visited the Tiveden NP situated in the middle of Sweden. Amongst other things I photographed water lily leaves situated in smaller lakes in this NP otherwise covered by an old forest. Here is one example. I have already here at NPN posted two other such images, "Reaching for the light" and "The Heart".
Type of Critique Requested
Aesthetic: Feedback on the overall visual appeal of the image, including its color, lighting, cropping, and composition.
Technical: Feedback on the technical aspects of the image, such as exposure, color, focus and reproduction of colors and details, post-processing, and print quality.
Specific Feedback and Self-Critique
With this image I just wanted to show this very special lily pad with its colors and traces of decay, for me it is a rather special find. It looks like a palette! I did not make any clean-up, the different stuff situated on the leaf could correspond to different artist tools on the palette. Since the leaf were not cleaned, I also intentionally kept some stems/stuff in the BG water.
Any comments are welcome! I also have some specific question:
There are some white lines on the leaf due to reflections in water with curvature due to surface tension – Are these areas a problem? (I have already tried to darken them a tad.)
Should the water BG be cleaned up?
There is a blue tint in the water, is that good or should it be gray/black instead?
Technical Details
0.6 sec., f/14, ISO 800, Olympus lens 40-150 mm at 120 mm (240 mm equiv.), Olympus camera OM-D E-M1X
The leaf was submerged a little into the water, so I used a polarization filter to take away the water surface reflections. Any remaining "fog" were deleted by applying dehaze in the post-processing software (DxO Photolab 6 Elite - DxO ClearView Plus slider). The water has been darkened, and the color saturation increased somewhat.